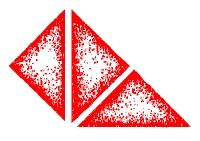 Creative Design Associates, Inc.
Architecture Interior Design Site & Space Planning
Phone: 215-672-1155
Southampton, PA Bucks County
The Carrier Pigeon Building was an early 1980 project for CDA Architects, and is a local newspaper headquarters and art department. A distinguishing feature of the construction is there are no interior bearing walls, allowing great flexibility of configuration. It has passed through a few Owners and several interior renovations. However the basic architecture has endured.





Main Entrance

The opposite end has an alternate entrance, providing flexibility for users or tenant separation.

Back to Top of Page
Web Bot Search words:
Architect, PA, Delaware Valley, Philadelphia, Bucks County, Montgomery County, Chalfont, Doylestown, Huntingdon Valley, Warminster, Willow Grove, House Plans, Hatboro,
Residential Architect
Commercial Architect
Industrial Architect
Renovations, Remodeling, Additions, House Plans,
Interior Design
Space Planning
Site Planning
Architect Residential Home Plans Additions Bucks Co. Montgomery Co. Commercial Design-Build